Lemas Accountancy Corporation offers a comprehensive payroll service designed for small and medium sized businesses that want to simplify payroll processing and value personal service. Combining the perfect blend of the latest technology with friendly, knowledgeable payroll processors, we provide you with an ultra-easy solution.
With Lemas Accountancy Corporation personalized service, you will experience: • Comprehensive payroll processing and personalized service from a dedicated payroll specialist.
Convenient, 24/7 access to our online services.
Accurate, on-time tax filings—guaranteed.
Simple, straightforward pricing.
Easy access to a full array of additional services.
Calculation and Processing of Taxable Fringe Benefits (Auto, Officer Health Insurance, HSA, Life, Etc...)
We work hard to thoroughly understand your payroll needs and deliver a service to exceed your expectations. Your employees will enjoy the convenient and flexible services we offer, and you can rest assured knowing that you will be in full compliance with all regulatory requirements. With Lemas Accountancy Corporation payroll service, you can eliminate the worrisome, time-consuming, and tedious task of payroll processing and have more time to do the things you should be doing—managing and growing your business!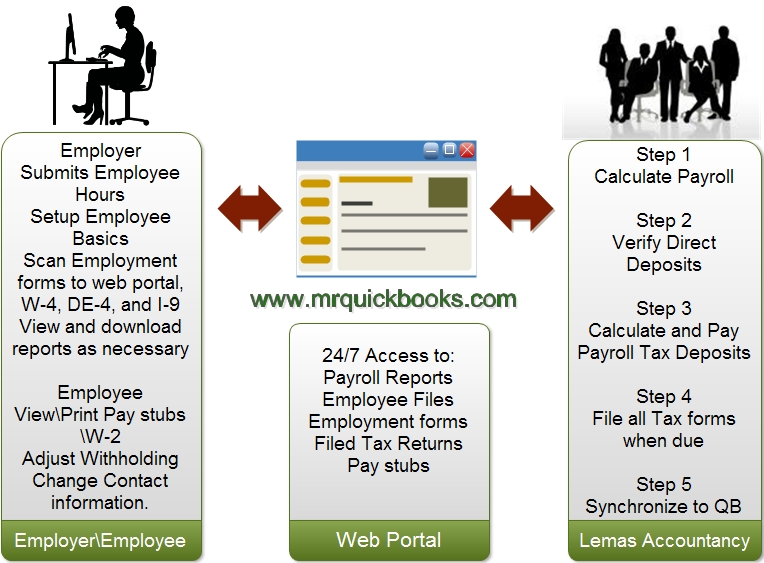 See our payroll Web portal in Action
Request a FREE initial consultation today, email Cary Lemas, CPA or call at 916-788-0788 to learn more about our year-round services.